Shargeek storm 2 100w 25600mah laptop power bank.
The shargeek portable charger, storm 2 100w 25600mah laptop power bank, world's first see-through battery pack with IPS screen, dc & 2 usb c & USB ports for MacBook pro/dell xps, iPad/iPhone 13, and more.
everyone has a power bank because the battery of most smartphones is not enough for a day of active use. in addition, a power bank is very useful when traveling. however, I have a power bank, which is not very suitable for travel because of its size, and large battery capacity. I think it is better to use laptops because it has 100w usb-c port. it is able to charge laptops, tablets, smartphones, or any other device. the power bank also has a cyberpunk transparent case and even an IPS display. so, this is shark geek storm 2, and today we are going to test it.
Specifications:
Brand: shargeek
item model number: stm2-2
batteries: 8 lithium-ion batteries are required. (included)
connector type: USB type c
battery capacity: 25600 milliamp hours
color: clear
voltage: 5 volts
product dimensions: 5.94 x 2.32 x 1.81 inches (15.1 x 5.9 x 4.6 cm)
item weight 1.25 pounds (0.56 kg)


Feature:
25600mAh Large Capacity: With a massive 25600mAh capacity, the Shargeek storm 2 power bank can provide iPhone(18W) up to 7 charges, MacBook(45W) up to 1.2 charges, iPad(30W) up to 2.5 charges, Go Pro/DSLR up to 15 charges, powering for days, but it only needs 90 minutes to be fully recharged.
Intelligence IPS Screen: The portable phone charger's on-display power management system visualizes the battery life, output distribution, running temp, and DC voltage adjustment in a clear, concise, and intuitive way, showing you the whole process of charging.
World's First See-Through Power Bank: The see-through and transparent design reveals STORM 2 portable battery's sophisticated internal structure including equipped battery, and circuit layout, displaying itself from the inside out.
100W PD Fast Charging: The portable laptop charger is featured with a PD 100W USB C port, which enables it fast charges MacBook Pro 16″ from 0% to 50% in 41 minutes with a 100W USB C cable(included) and charger, 2X faster than the original charger, saving more time for you.
Universal Compatibility: Equipped with 2*USB C port,1*USB port, and 1* adjustable DC port, the Shargeek laptop power bank is compatible with laptops, phones, switches, drones, cameras, and more devices with a DC port, meeting all your charging needs.
The new power bank comes in a black box with the SharkGeek logo on the front.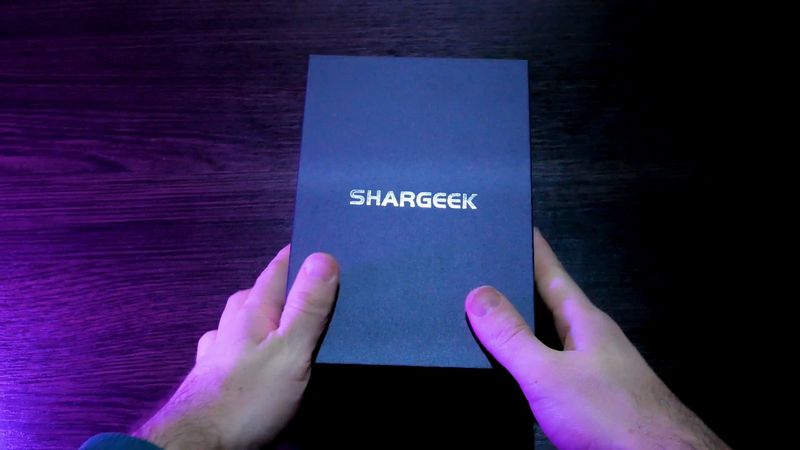 You know, the box is quite heavy, because a power bank has a capacity of 25600mAh.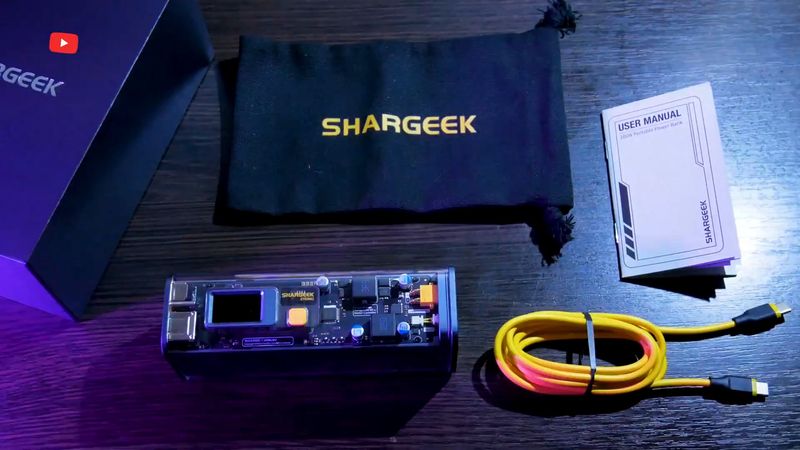 When you open the box, you will find a user manual, a USB C to USB C cable, a carrying bag, and a power bank.
You know, if you do plan to take this power bank on trips, the bag will be very useful.
Design
So, the design is definitely a feature of this product, because it has a transparent case, and we can see everything inside.
There are four 18650 batteries from Samsung in this power bank, as well as different chips and controllers.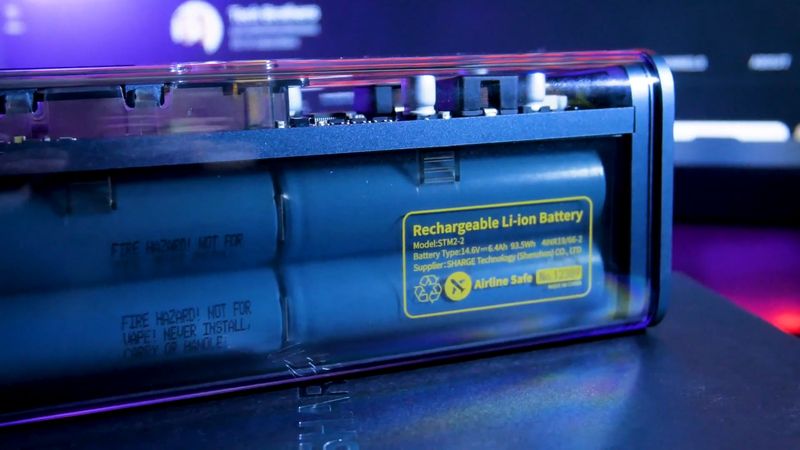 By the way, it looks like you can disassemble the case and take out the batteries.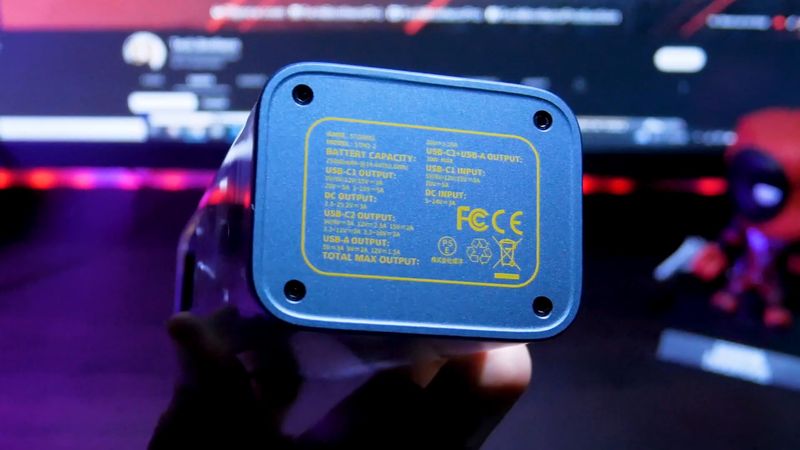 There are four bolts on the side. We can also read a battery capacity of a power bank and the specifications of each port.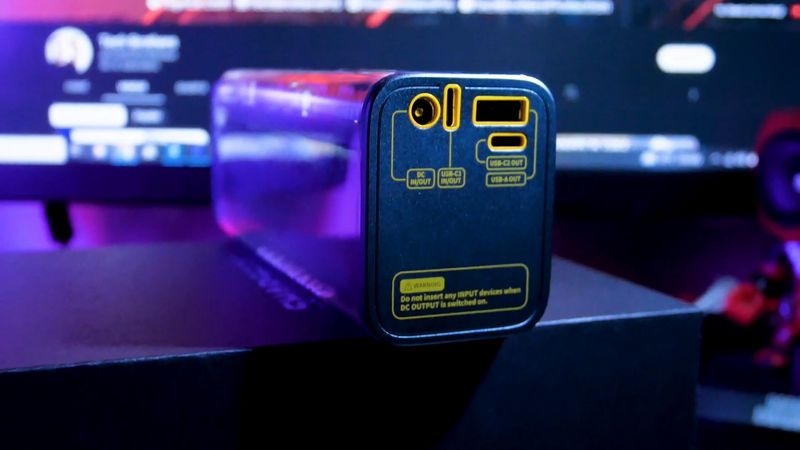 On the other side, there is DC in/out, USB-C1 in/out, USB-C2 out, and USB-A out ports.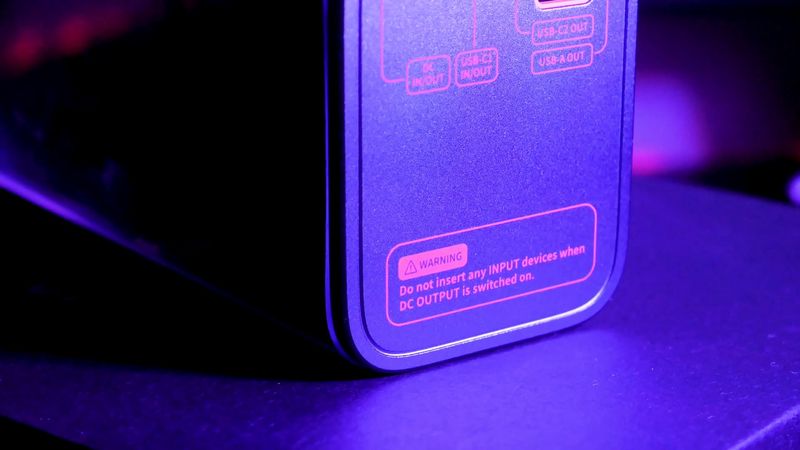 Pay attention to the warning about do not insert any Input devices when the DC output is switched on.
Display
Another feature of the SharkGeek Storm 2 power bank is an IPS display.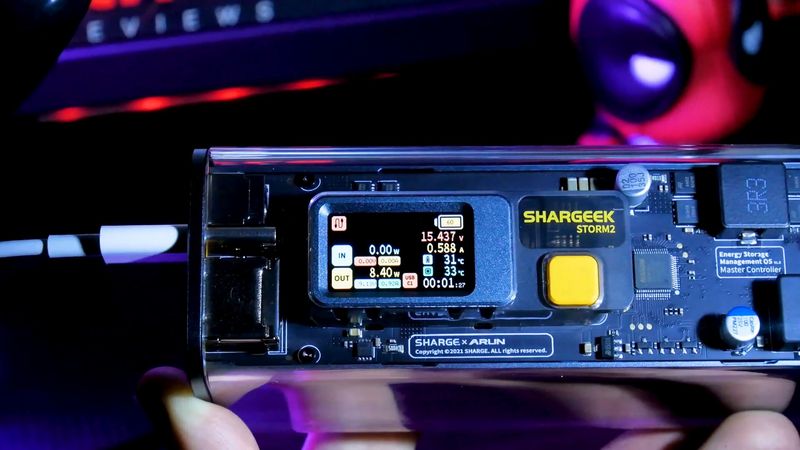 First, we can see the port status of the connected devices, such as USB C1, USB C2, USB A, and DC In or DC Out.
Then, there is a battery level of the power bank at the top right corner.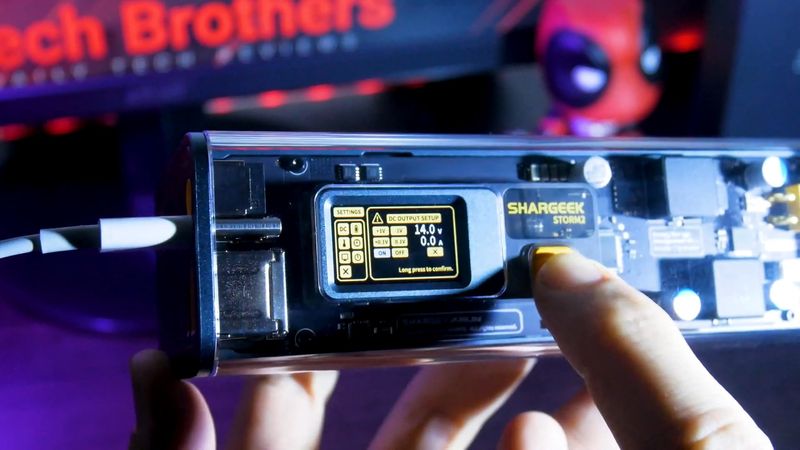 The input status is a little lower.
We can also see the input and output status. For example, my iPhone supports 15W fast charging, and we can really see about 12W on a power bank display.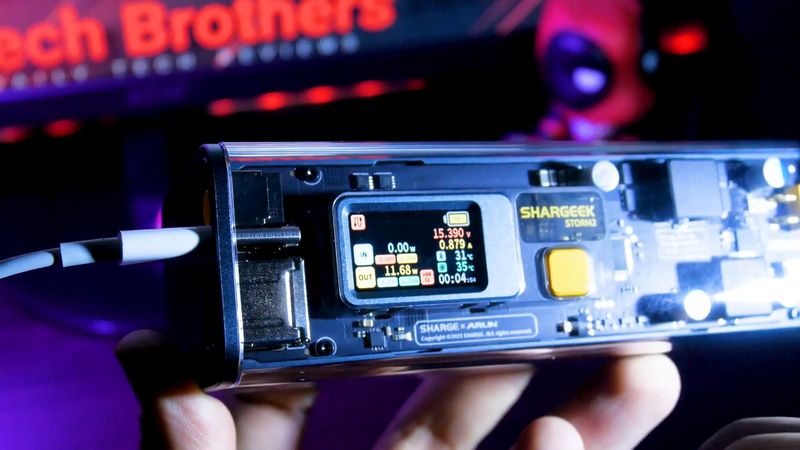 Finally, there is the temperature of the battery pack, the temperature of the circuit board, and the running time of the whole system at the bottom right corner.
I am already very impressed by this power bank, but that's not even all the features of it.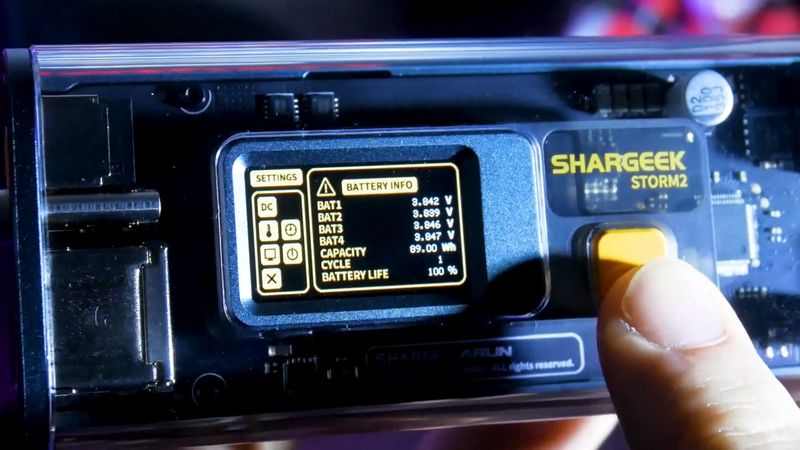 You can press and hold the button to the right of the display to access the settings menu. Here we have a DC output setup, so you can configure the DC output voltage, and battery information, which contains details about the battery pack. It shows the voltage of each battery cell, the battery cycles, and the battery life.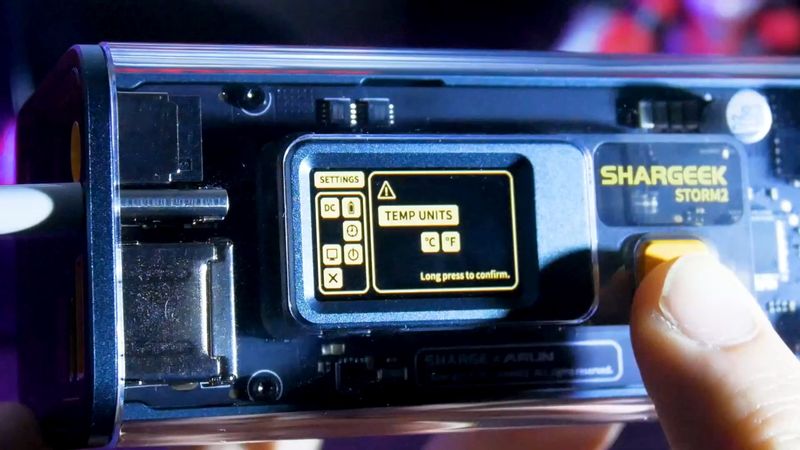 Then, we can change the temperature units from Celsius to Fahrenheit.
In the next menu, we can reset the system running time.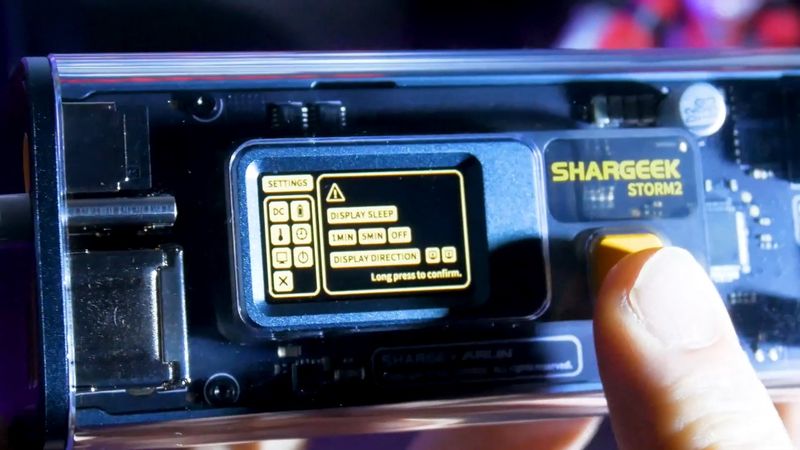 The display configuration includes display sleep of 1 minute, 5 minutes or off, and display direction.
Finally, we can power off a power bank and exit the settings menu.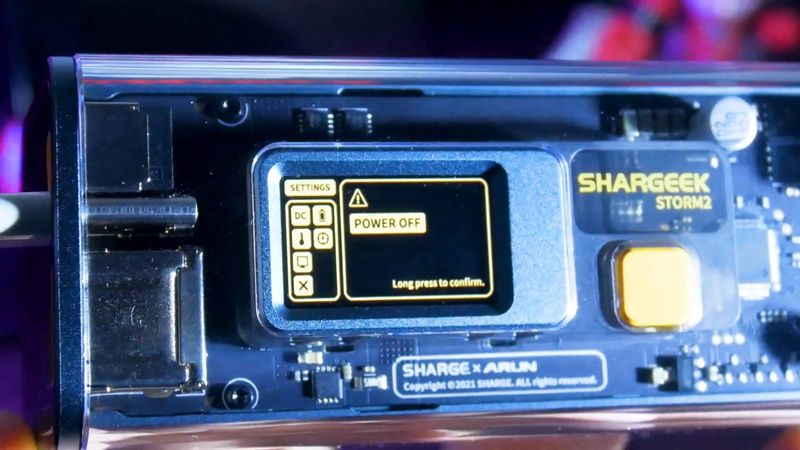 So, SharkGeek Storm 2 is not an ordinary power bank, but a smart device with analysis of each battery, measuring their temperatures, and other settings.
Protections
By the way, this power bank also has many different protections, such as input high voltage, output high voltage, extremely high temperature, extreme low temperature, and short circuit protection.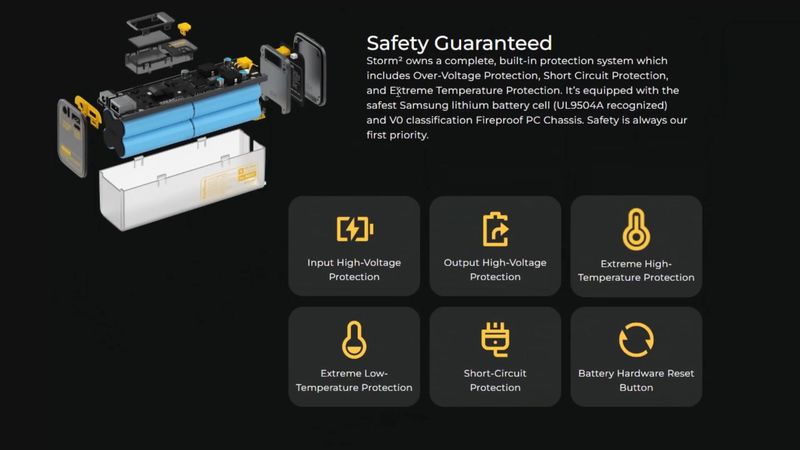 Ports
Now, let's talk about each port of the SharkGeek Storm 2 power bank.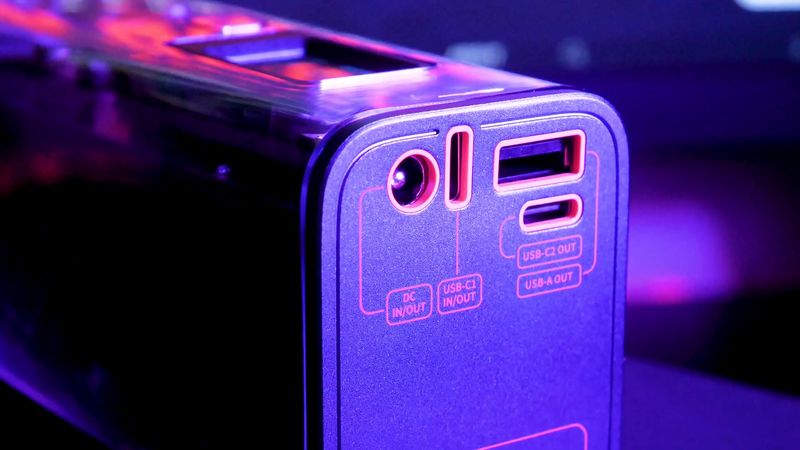 First, there is a DC in/out port on the power bank. You can use it to charge a power bank or other devices. The input power is 75W and the output power is 72W.
Unfortunately, there is no DC charging cable in the package.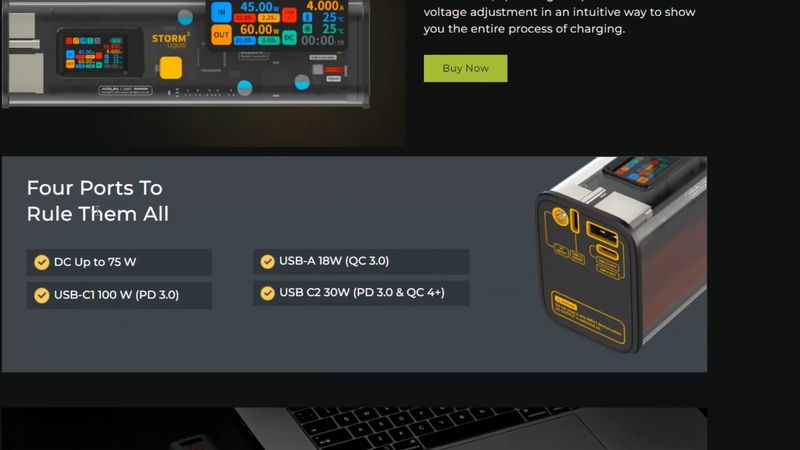 However, you can use a USB C to USB C cable to charge a power bank. USB C1 port supports up to 100W. The full charge of the power bank takes only 1.5 hours.
This is very fast for a 25600mAh battery. The second USB C port can only be used to charge mobile devices because it supports 30W. USB A port has a power of 18W.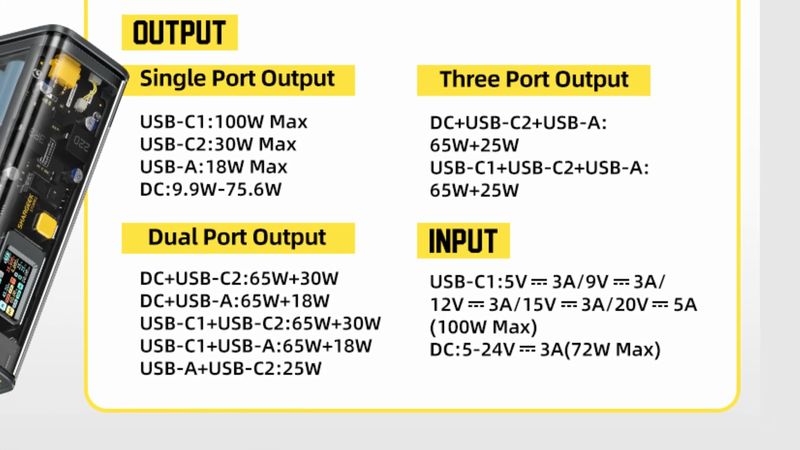 So, you can charge up to three devices at the same time from this power bank.
I also found a picture with output power when two or three devices are connected simultaneously.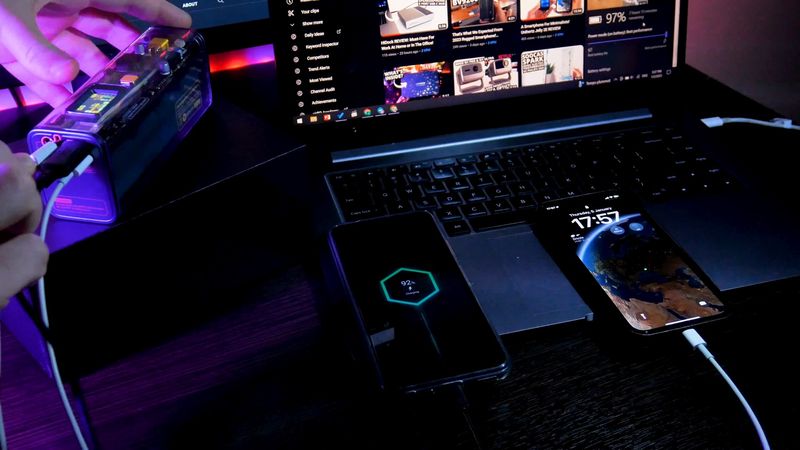 You know, I am wondering if I can charge my laptop, and two smartphones from the SharkGeek Storm 2 power bank. Yes, it is possible. All the connected devices are charging.
Conclusion
So, SharkGeek Storm 2 is the most advanced power bank that I have ever seen.
I would even call it a mini power station than a power bank because it has a screen that shows useful information and settings. The design is another feature of this power bank because it looks like something from the future or even from outer space.