SKE POE432 Mini DC UPS
The SKE POE432 Mini DC UPS Output 17W 5V 9V 12V 15V 24V UPS is now available in Bangladesh. Get the original products at the most affordable price only at Alflip.COM and enjoy the quality with the promise of the best customer service in Bangladesh.
The SKE POE432 Mini DC UPS Output 17W 5V 9V 12V 15V 24V UPS rechargeable battery can supply power to multiple devices at the same time, making it perfect for homes and small businesses. With five output ports, it can easily connect to a router, modem, camera, or other DC equipment. The USB port can also be used to charge a mobile phone or another device. The UPS is easy to use and comes with a seven-day replacement warranty. This is an ideal online DC power backup system for wifi internet seamless Online Gaming & Streaming. Therefore it can power up WIFI Router/ADSL Router+ONU+Switch ensuring 8-15 hours of seamless internet during load-shedding.


Specification:
Brand Name: SKE

Model Number:

POE 432E

Phase:

Single Phase

Protection:

Short Circuit

Weight:

0.38kg

Type:

Online

Application:

Networking

product name:

MINI DC POE UPS

transfer time:

0ms

output current:

1A, 1.5A, 2A, 2.5A

Battery Type:

Lithium Battery

battery capacity:

2200mah*4pcs

Input voltage:

100v~240v/50-60Hz

dimensions:

160*10.5*28mm

output power:

17w

case:

plastic
Product Features:
Portable
With Li battery 8800mAh
Supports the latest technology of Gigabit PoE (Power Over Ethernet).
No need extra Power Adapter (Directly runs with AC current).
Used as a long ideal power backup for Wifi Router + ONU/Modem + Switches up to 8hrs.
Powerful Battery 8800mah durable battery with DC to DC 5v/9v/12v & PoE 15v/24v selectable ports.
Smart cheap control with zero conversion.
Protection circuit Overcharge protection(system protection).

Battery protection.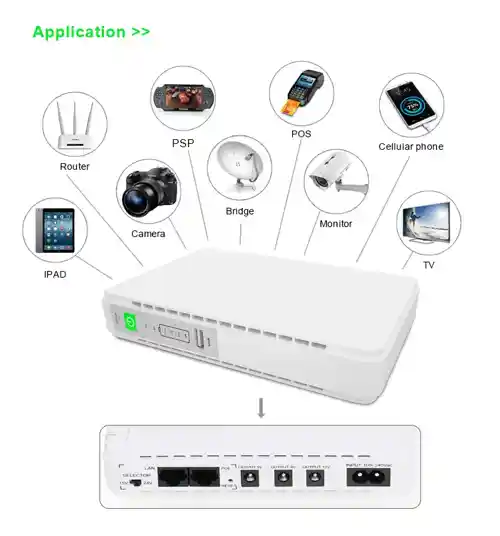 Are you tired of unexpected power outages that disrupt your work and leave your devices without power? Look no further than the SKE 432P Mini UPS.
The SKE 432P Mini UPS is a versatile and reliable device that provides backup power to your electronics in case of a power outage. With the ability to output power at 17W 5V 9V 12V 15V 24V UPS this Mini UPS is compatible with a wide range of devices including routers, cameras, and other electronics that require a low power supply.
This Mini UPS is also portable and lightweight, making it an excellent choice for those who need backup power on the go. It can easily fit into your backpack or briefcase and can provide hours of backup power, allowing you to work or use your electronics even during power outages.
One of the best features of the SKE 432P Mini UPS is its affordable price. At alflip.com, we are proud to offer this device at a competitive price, making it accessible to a wide range of customers in Bangladesh.
In addition to its affordability, the SKE 432P Mini UPS is also easy to install and use. Simply plug your device into the Mini UPS and it will automatically provide backup power in case of an outage.
At alflip.com, we believe in providing our customers with high-quality products at affordable prices. That's why we are proud to offer the SKE 432P Mini UPS at a competitive price, backed by our commitment to excellent customer service.
So if you're looking for a reliable and affordable Mini UPS for your electronics, look no further than the SKE 432P Mini UPS. Order yours today from alflip.com and enjoy the peace of mind that comes with backup power during unexpected outages.